Updated 8/19 – pictures added
If it exists, you can collect it. Today, we're taking a closer look at identifying collectable marbles.
We have many rare, mint and near mint marbles on eBay and even more at our Clearwater location.
The game of marbles can be traced back to ancient Egypt, pre-columbus America and pretty much anywhere where children lived in a communal setting. There are many ways to play marbles too.
One of the best parts about working at Slades Trades is the research. After acquiring a bevy of vintage marbles from a collector, I decided to delve into what made these beauties so special in order to better understand the differences (and to help me start a collection of my own if I happened upon some in the future). I'm including many as many links and pictures as I can but you can also see all the marbles we have on the Slades Trades eBay Store.
When it comes to collecting, there are four main factors that determine the value of a marble. They are: Type, Condition, Size, and Eye Appeal.*
Type: This is what the marble is made of. The more rare the type, the more valuable the marble. Marble types include:
Handmade Glass – Characterized by various designs and the existence of a Pontil – a small rough spot where the marble was cut off its glass rod.
Swirl – This design is also broken down into sub-categories such as; Latticino, divided, solid, and ribbon cores; banded, ribbon, and indian lutz; banded (coreless), banded opaque, clambroth, peppermint, and more. NOTE: Many swirl designs (such as Latticinoo) are also further classified in value if it's a first-off-cane (the inner swirl starts on the outside of the marble, or a last-off cane (the inner swirl ends halfway through the marble). The color of the core on most swirl designs is also another factor in the value.
Here's a beautiful example of an "End of Cane" Marble where you can clearly see where the design stops. This is a valuable marble because it's also very symmetrical. This marble is currently on sale in our store only but feel free to contact us if you can't come in.
End of Day – Literally made at the end of the work day from leftover bits of glass. Usually given to children by the maker.
Misc – Mica, slag, opaque, clearie.
Single-gather - See below for an example of a single gather available on our eBay Store.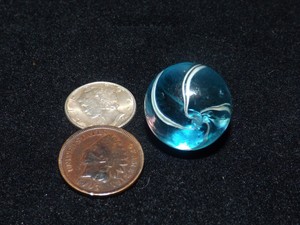 Amazing Blue Naked Core Marble | eBay.
Handmade Non-Glass
Clay - 

Rather common. Used as ballast in ships, then sold in America. Often dyed and pretty to look at if you like clay as a substrate. (As a potter, I'm a fan)
Mineral – Well known for its ruggedness when playing. These marbles are made of many substrates but the most popular is agate or "Aggies."  See below for Aggies and other mineral marbles available on our eBay Store.

Beautiful Bull's Eye Agate 3 4″ Marble | eBay.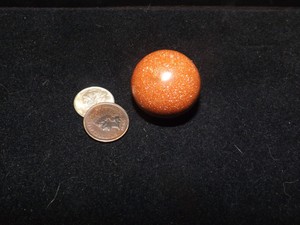 Beautiful Gold Stone 1″ Marble | eBay
Sulphide - Transparent marbles with little figurines inside (usually animals) There figures were inserted by hand so how well the figure is centered is a determining factor in the value.
Wood
Steel – Known as "Steelies," these are illegal in tournaments. They can cause heavy damage to glass marbles
Paper – Also known as a "spitball."
Machine Made
Manufacturer – Different manufacturers developed different styles and looks over the years. Some manufacturers are very well-known or in demand because of this. Some examples are:

Akro Agate – Known for their Flinties, Moonies, Oxbloods, and 2 – 3-corkscrews.

10 Akro Corkscrew Marbles | eBay.
M.F. Christensen & Son – Patented the first marble-making machine and are know for their "oxbloods" among many others. Many subsequent companies either got their start (Akro originally repackaged and sold M.F. Christensen marbles) or capitalized on their name (The originator of the Christensen Agate Company is not related to M.F. Christensen. He was just fortunate enough to have the same last name).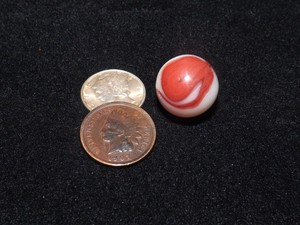 Beautiful Oxblood Swirl Marble | eBay.
Christensen Agate Company – (As mentioned above, no relation to M.F. Christensen) A few of the many things that Christensen Agate is known for include their brightly-colored "electric" glass, their "World's Best Moon" that casts more of a bluish than a fiery glow and tends to have air bubbles inside (Moonies are white opalescent translucent marbles that glow like the moon when light is cast on them), and their beautiful glass swirls of unusual colors (peach and lavender are two of the more rare colors Christensen Agate produced).
There are a lot of fake Peltier Picture marbles out there but the ones pictured above are NOT Peltiers but they also are NOT Reproduced Peltiers. We're actually having a hard time documenting these. All we know is that they are from the 60′s. Please leave us a comment if you have any info.
Genuine Peltier Comics are incredibly valuable. A full set of 12 in the original box sold for over $8,000 and a single Tom Mix Marble sold for over $2,500 at auction once. Below, are some close up images that show the difference between real and fake Peltier Comics. (Images from All About Marbles)
Machine-made Designs – Most marbles found in stores today are machine-made but there are many designs that are still highly sought-after. These include: Corkscrew, Patch, Cat's Eye, Brushed, and Veneered.
The next factor is Condition. Like most collectables, the best condition if the most valuable. When examining a vintage marble for purchase, please keep in mind that the amount of damage on a hand made marble carries a different weight than a machine-made marble. A small chip on a machine-made marble will greatly reduce the value over a hand-made marble since machine-made marbles are more abundant and hand-made marbles in mint or near mint condition are harder to find.
Mint – Essentially, if it looks like it just came away from the factory, it's mint. At the very most, there can be very minor rubbing on the surface that could have happened when it was shipped from the factory.
Near Mint – A marble that has seen some use. You may see very small, subsurface "moons" or chips, tiny pinpricks, or flakes. If there is more noticeable damage, but it's only on one side (and the other side is mint) it's still Near Mint.
Good – This marble has obviously been used. It can have numerous hit marks on it but the core is still clearly visible. If it has major damage on one side, but the other side is Mint to Near Mint, it's still considered as Good.
Collectible – This marble has been well-loved and used over the years. It has chips and scratches all over it and the core is not visible from certain angles. This type of marble still has some very small value to collectors as a placeholder in a collection until a better one can be found. Plus, there's something about playing with vintage marbles that makes it seem more fun!
Antique Clambroth Collectible Marble | eBay. This is a good example of how the condition of a handmade glass marble can be worse than that of a machine-made marble yet still be more valuable due to its rarity.
The third factor is size, which is measured by the marble's diameter in inches. Marble sizes vary, especially with handmade marbles because manufacturers poured them through a device that had holes that increased by 1/16″ increments for the marbles to drop through. Since each was made and measured by hand, the size can vary by 3/64″. You will never find a handmade glass marble over approx. 2 1/2″ the marble tended to sag and deform.
Machine made "shooter" marbles tend to be 1/2″ to 3/4″ due to tournament regulations and the "target" marbles are generally 5/8″.
For the most part, the larger the marble, the more valuable it is with a few exceptions. For example: a hand-made marble measuring 1/2″ or less is slightly more valuable than the standard handmade size of 9/16″ to 11/16″ because of the above-mentioned method of sizing them and an "end of day cloud" marble measuring 1/2″ or less is considered "too rare to evaluate" in most price guides.
The last factor is the marble's Eye-Appeal. This has many factors as well but mostly has to do with brightness of color and symmetry of design. Symmetry is an important consideration for most designs with an exception given to the first-off-cane and last-off-cane marbles mentioned above under "swirl."
There is one more unmentioned factor when it comes to marble collecting that you won't find in any guide and that's how YOU feel about a particular marble or set of marbles. A well-used, well-loved sack of marbles that once belonged to a relative carries more personal value than the finest mint oxblood in the world but if you want to determine if any of your family heirlooms may be worth something, we suggest you pick up an identification and pricing guide to help you fully understand how the different factors in grading a marble determine its value.
That way, you can easily determine if any marbles you have are instant toys or treasures.
Sources and references:
More info on different kinds of marbles
Peltier Comparison Images from All About Marbles
Moon comparison picture taken from the forums at Land of Marbles
*The majority of info in this post is from the Marbles Identification and Price Guide by Robert Block. This is the guide we recommend. Get it now at Amazon!